"No earthly excellence can comprehend"
The last few weeks have been less focused on this project, with much of my time spent preparing for a premiere of a new oboe concerto, Une Cité Moderne. A nice review on an Iowa Public Radio blog is here.
Prior to this performance, I worked on the fourth section of Nobilissima Viriditas, based on the text "that no earthly excellence can comprehend." The previous section ended on a sustained chord in the string section, suggesting an E Lydian modality: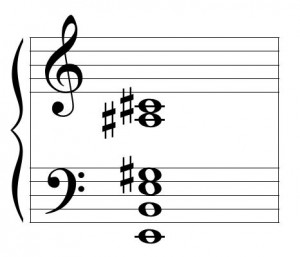 From here, I knew that I wanted to land in F Major for the following section, "you are enclosed in the embrace of divine mysteries." I then decided to build a chord progression that would lead me there: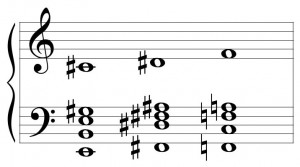 It is somewhat reminiscent of a famous three-chord sequence from the slow movement of Dvorak's "New World" symphony. I didn't mean it as a quote or reference, and in my piece, the chords are so far apart that one would be hard-pressed to hear them as connected in a similar fashion. Nevertheless, there is something unexpected and surprising about the final chord that, hopefully, gives the music an air of mystery, as if you've been on a journey somewhere but have unexpectedly found yourself in a secret place.
Decorating these harmonies are gently winding solos from the flute section, who play piccolo, C flute and alto flute. These are echoed by a trio for celeste, harp and vibraphone. These two instrumental combinations, playing mostly in the Lydian mode, suggest to me a sense of disconnection—the flutes are humanistic and earthy, while the celeste/harp/vibraphone are ethereal and heavenly. This is one of the paradoxes of both the musical world and Hildegard's poetry—we often want musical sounds that are both familiar and unfamiliar, while Hildegard wants to connect us both to the "greenness" of the world and also the mysteries of the universe.